Hello
Welcome to my Web pages. I am Richard Skipworth, freelance cartoonist and illustrator. I live in Worcestershire, England and work from home. I have been a freelance for about 25 years, and a professional cartoonist for the last 20.
I started my design and illustration career as a graphic designer in advertising agencies and newspapers, but I always wanted to be a cartoonist.
I studied Physics at Manchester University, but really I wanted to draw cartoons. When I graduated with my physics degree and got a job packing mackerel in a freezer factory I still kept alive that little dream of drawing funny pictures and getting paid for it.
I don't know why it took me so long to actually get round to doing it.
After years of working for other people I finally decided to try freelancing. I worked on my own as a graphic designer for a few years and then one day when the graphic work was a bit slack and the bank account was looking a bit empty I sold some cartoons to a greetings card company. The cards sold well and I got asked to do some more. And more. And even more. The cartoon thing finally took off. Now all I do every day is draw funny stuff (and get paid for it).
I have worked as a cartoonist for such greetings card companies as Webb Ivory, Hallmark, Britannia, Paperhouse, Quitting Hollywood, Otter House, Carlton Cards, and Hanson White. I have produced book illustrations for Penguin Books and Ladybird and designed a huge amount of giftware products for the Xpressions Card & Gift Company. (In fact anything from Xpressions carrying a "World's Greatest" logo is probably mine).
On these pages you will find a small portfolio of my work. I hope you like what you see.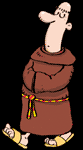 Oh, and yes, I am the bloke that does those Monks cards. Check the menu bar on the left for Monk related cartooniness, or click the monk on the right.
Thanks for stopping by.